Honeywell CL201AEWW Review – 470 CFM Indoor Portable Evaporative Cooler with Fan & Humidifier
Honeywell CL201AEWW is one of the best evaporative cooler models that can you can rely on, particularly during the hot summer months. The air cooler provides users with a new way to beat the summer heat.
In this Honeywell CL201AE review, you will learn why it is one of the most efficient and eco-friendly ways to stay cool whether you are indoors or outdoors.
The Honeywell evaporative cooler uses a high-efficient rigid media, making it work more efficiently.
The Honeywell CL201AE is quite powerful and can cool an area of up to 350 square feet. It features a large airflow capacity that can lower the temperature by 10 to 25 degrees.
You can use it simultaneously with the air conditioning to boost the chilling effects. Because it uses no harmful refrigerants, the CL201AE evaporative cooler will not have any negative effects on the environment.
Honeywell CL201AE is ETL rated and based on the Kuulaire KA50 model previously manufactured by Kuulaire (a branch of the Portacool company) which is a recognized industry brand name across the globe.
What Is Honeywell CL201AE
How does it work? Honeywell CL201AE uses evaporative cooling principles which provide a natural cooling effect and a constant flow of refreshing breeze into hot environments with the use of regular tap water.
The swamp cooler uses an evaporative pad – a pump that pushes water over the pads. In turn, a fan pulls the air through the pads. The water that evaporates within the pads then cools the air that is passing through it.
There are a lot of people who love the Honeywell indoor portable evaporative air cooler because of its ease of use. It does not require assembly which means you can use it right away after taking it out of the box. It is also cost-effective as it is not as expensive as other similar products.
Its other features of Honeywell swamp cooler include a 5-gallon water capacity, water adjustment control, 3-speed settings, automatic-swing louvers, a timer, and remote control.
Features
If you are living in an area whose humidity level is below 60 or if you just want to cool some sections of the house then a cooler comes in handy. Honeywell indoor evaporative air cooler CL201AE can do the job and at a lesser cost compared to the regular AC unit.
Below are some of the features of the Honeywell evaporative cooler in more detail.
Multiple functions
One of the reasons many people purchase Honeywell 470 CFM is because it is a 3 in 1. It serves as a humidifier, fan, and evaporative cooler. Therefore, you don't need to buy these appliances separately.
If you have one unit that performs multiple roles, then you also save on space that you would have used if you had the 3 appliances separately.
Remote control
The appliance comes with a remote control that makes it easy to operate. This gives you better control over the timer, the cool settings, power, and automatic swing and speed settings.
The remote control allows you to adjust these settings even if you are not standing next to the cooler.
Timer
The Honeywell Portable Evaporative Cooler comes with a timer that helps to save energy. This ensures that you spend less on electricity bills.
Another great aspect of the timer is that you can set it for up to 7.5 hours and go about your normal duties. You don't need to keep checking on it during this time because it can operate on its own.
Active carbon filter
The Honeywell cooler traps the unwanted particles from the air and then it filters or cleanses the air in the process of cooling it.
By filtering pollutants, dust, and odors, this device helps you to breathe in fresh and clean air which is good for your health. The active carbon filter can be washed and so it won't accumulate contaminants and won't put your health at risk.
You don't need to buy new filters, you can just wash your existing one under the faucet.
Easy-Fill Water Tank
Filling up the Honeywell air cooler is extremely easy because its wide opening prevents water from spilling out. Therefore, you won't dread filling up the tank to enable the cooler to do its job.
Fan That Uses Ice For Colder Air
The cooler has an ice compartment at the top where you can put ice if you want to enjoy colder air. The ice will help reduce the water temperature and make your home or room cooler than it would be without the ice.
Rhythmic Wind Sounds
When using the Honeywell 470 CFM, you can choose different rhythmic wind sounds to make your experience more enjoyable.
You can opt for the natural or normal sound or explore further and try out sleep modes so you can have the feeling of enjoying a natural breeze.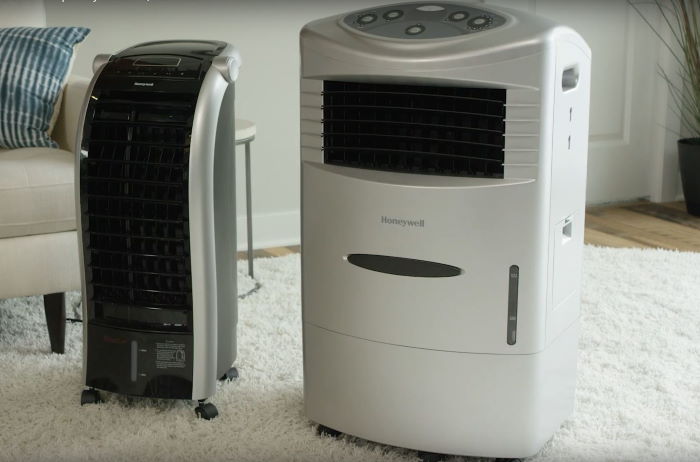 Customer Reviews
The Honeywell portable evaporative air cooler is causing surges of excitement among the masses with its innovative approach to keeping humidity to near-perfect numbers in households and studios. Also, the product can be shipped anywhere in the United States and in a very short amount of time, which is very highly appreciated by the customers. However, it is to be noted, that this is not a traditional air conditioner.
The evaporative cooler or swamp cooler functions to get rid of dryness or in a more appropriate manner, the cooler adds to the humidity via the insertion of cold steam through the evaporative exhausts. The cool air is natural, not dry at all, and depending on the instructions, it can keep the humidity between 45%-55%, which is very accurate.
Unlike the artificial dry cold air we get from an a/c, the evaporation cooler with the non-compressor system does not make the temperature fall down that much. Rather, the portable evaporative air cooler works hard to keep the environment cool over large spaces and it ensures that the air is not dry.
With only 5 gallons of tap water, the Honeywell portable air cooler can very efficiently cool the air in a large studio. Also, the air will be naturally humid as mentioned by many satisfied customers.
There's even a variety of added functions, including control over the fan oscillation to maintain coolness, a drainage duct to refresh water weekly, and a large door to add water. Most importantly, it's very lightweight and has wheels to facilitate locomotive capabilities.
Pros and Cons
These are the benefits and drawbacks of using the Honeywell Portable Evaporative Cooler.
Pros
It is effective
One of the reasons users love the Honeywell portable swamp cooler is because it works. Users attested to the fact that it provides great airflow even compared to fans they had tried previously.
The device also brings down the temperature to about 10 degrees. This works perfectly even if you don't have air conditioning and the temperatures are high such as during summer or when there is a heatwave.
Users of the device say they can comfortably breathe in nice, cool air even when it's hot and this is because of its ability to lower temperatures.
It saves power
If you had an AC before buying the Honeywell evaporative coolers, you will notice a significant difference in power consumption. The Honeywell CL201AE saves energy, so you can use it and enjoy paying a lower electricity bill.
It is easily movable
The cooler is designed with casters which make it easy to wheel it from one place to another. Therefore, you don't have to keep it confined to a particular area. You can use it in one room of the house then move it to another to help cool that room.
Has a variety of speeds
With the Honeywell indoor air cooler, you are not restricted to one particular speed function. You can decide whether you want to operate on low, medium, or high airspeed.
You can choose where you need cool air
The appliance has oscillating louvers that allow you to direct it to the particular area where you need temperatures low.
Gives alert when the water level is low
One of the things that users of this equipment appreciate is its low water alarm system. Whenever the water is lower than the required minimum quantity in the tank, it will give you an alert and you can refill it.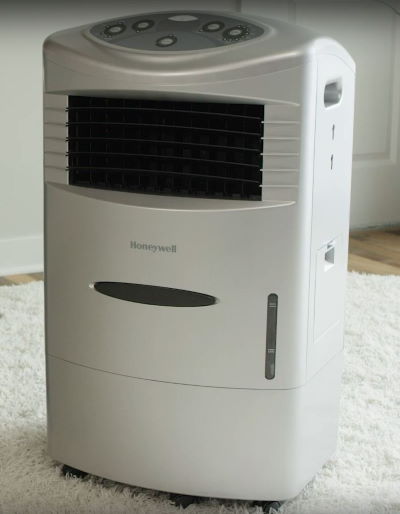 Cons
It can stop working when not cleaned
The manufacturers of this 3 in 1 indoor portable swamp cooler recommend washing the filter every two months. Users who did not do this realized that the water tank was extremely dirty, the filters got clog up, air could not flow properly and the pump died.
To avoid all this, simply change the water and clean the filter.
The water can leak from the tank
Some people reported that the water started leaking all over the place when filling the water tank. Those who've used the Honeywell Portable Evaporative Cooler for a long time discovered why the leaking happened.
According to this latter group, you should check the cylindrical white float that rises whenever you put water into the tank.
When that float is on top of the line indicated as the minimum water level, you should stop filling the tank because the water will start flowing out if you go beyond that line.
Many people make the mistake of filling it until the water itself reaches the minimum level instead of checking the white float.
It is noisy
Some people find the Honeywell Portable Evaporative Cooler noisy when it's operating. Others said that they got used to it and it no longer bothered them.
Conclusion
Summertime doesn't have to be unbearable when you are indoors. With the Honeywell Portable Evaporative Cooler, you can significantly lower the temperatures and enjoy a cool breeze.
Honeywell CL201AE is perfect because it takes up less space compared to having a cooler, a humidifier, and a fan separately. What's more? It uses less energy which saves you money.
The appliance is also good for your health since it helps to filter out contaminants from the air. It works well indoors given its portability. You can also move it from one room to another depending on where you want to lower the temperatures, whether it's your bedroom, living room, or garage.
You should try this cooler if you live in a hot and dry climate area. With this device, you don't need to sweat or sweat your bills.