EdgeStar AP8000W Review | Edgestar Portable Air Conditioner
It looks like the EdgeStar AP8000W has been discontinued. Please take a look at these 8,000 BTU portable air conditioners instead.
EdgeStar AP8000W is an ultra-compact portable conditioner that can cool a room of 150 up to 225-square feet by blasting cold air while providing a dehumidifying function and three-speed fan. Because of its ultra-compact size, it can fit in almost any small space.
If you want to get a conditioner that is portable and at a reasonable price without compromising its quality and features, you should consider getting the Edgestar ultra-compact 8000 BTU portable air conditioner.
Its design is simple yet stylish, and the Edgestar portable AC will look good in any room.
EdgeStar AP8000W Features
You can use the EdgeStar Ultra Compact 8,000 BTU portable air conditioner all year-round. During the cold season when air conditioning is not required, you can use it to dehumidify your room because it works as the dehumidifier as well.
The EdgeStar portable air conditioner AP8000W offers more great features including 24-hour programmable timer and 3-speed fan with directional air discharge louvers.
The package includes a window kit (38 inches maximum) with an extendable hose up to 49 inches. It has energy requirements of 115 volts or 60 Hz; 7.9A; 840W.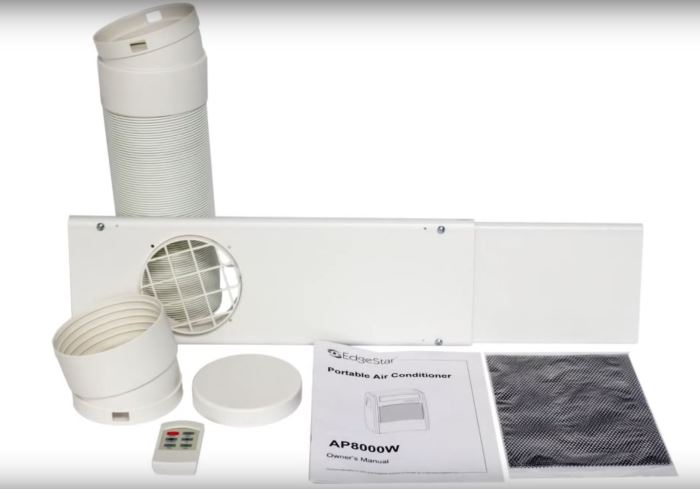 Because it is compact and lightweight, you can quickly move your Koldfront 8000 portable air conditioner AP8000W around your home.
It also has low noise which makes it pleasant to use. This also helps mainly when you have babies at home or young kids who usually get scared of units that create noise when used.
It has various controls that are easy to use. You will not have to spend a lot of time reading the manual as you can figure it out on your own.
The portable air conditioning unit also features an indicator light that says when you need to drain the tank for particularly when you are using it as a dehumidifier.
EdgeStar AP8000W portable AC is eco-friendly, and it was one of the first appliances designed to meet the lead-free directive standards that have been set by RoHS or Restriction of Hazardous Substances.
RoHS aims to significantly reduce the number of toxins that are being released into the air by electronic and electrical equipment. These toxins include lead, mercury, and cadmium. If these are met, it can lessen the harmful effects specific equipment can have on the environment. It will also allow safer disposal and recycling of electronic and electrical devices.
Specifications
Model# – AP8000W
BTUs – 8,000 BTU (ASHRAE-128 Standard)
Room size – 150-250 sq. ft. (depending on heat load)
Remote control included
24-hour programmable timer
Direct drain option
Casters – yes
Dehumidification – Yes, up to 50 pints/day
Air flow – 100 CFM (low), 123 CFM (high)
Refrigerant – R410A RoHS compliant CFC free refrigerant
Included accessories:

29″ min, 38″ maximum window kit
49″ extendable exhaust hose

Cord length: 6.1 ft.
Input voltage: 115 V/60 Hz
Power: 7.9 A/840 W
Weight: 56 lbs
Dimensions: 24 3/4″H x 19 1/4″ W x 13 1/4″ D
Users Feedback
A small package which delivers a big punch, however, the punch is a breath of refreshing cold air in this case. The EdgeStar AP8000W serves to cool a big room of 250 sq. ft. in moments, and it is as portable as an air conditioner gets.
The pleasing white color of the best portable air conditioner lines up with its powerful cooling capabilities. Equipped with a 24-hour programmable timer, the EdgeStar AP 8000W has 3 fans in its disposal which can be shifted in any direction with air discharge louvers.
Not only that, but this model can also dehumidify the room up to 50 pints a day and it has an adjustable thermostat control to facilitate said function. Additionally, the pre-filter is washable and reusable indefinitely, and as a gesture of care for the customers, a replaceable carbon filter is provided alongside the product.
But that's not all, the power consumption on this small-sized beast of a machine is very low, making it one of the most efficient devices in this industry. And, to further add to the convenience, the energy-saving features are pre-programmable and can be controlled via a timer protocol. And, to top it all off, it's entirely remote controlled and can easily be used by any user looking to have a cool time.
Frequently Asked Questions
Who makes Koldfront air conditioners?
Koldfront portable air conditioners are made by Living Direct Inc. The Living Direct Inc. company also owns the Edgestar brand. That is why this AC model was so easily rebranded from Koldfront PAC8000S to EdgeStar AP8000W.
Both brands offer a variety of cooling appliances like portable and window air conditioners, wine coolers, kegerators, countertop ice makers, and more.
Other Cooler Models
If EdgeStar AP8000W is not precisely what you are looking for, please check out our Honeywell CL201AE and Whirlpool AP51030KB Review.
Related Articles