Crane Drop Shape Ultrasonic Cool Mist Humidifier Review (Upd Jan 2021)
With the Crane Drop Shape ultrasonic cool mist humidifier, you won't ever have to endure the drying effects brought by the continuous use of heaters.
This vaporizer releases cool mists that add moisture to dry air, providing you great relief from the symptoms of a dry cough, colds, congested nose, and flu.
So if you feel that your room can use some additional moisture, then you may want to check out this product.
The Crane Drop Shaped humidifier offers a multitude of features that are just right and very suitable for home use.
Crane Drop Shape Cool Mist Humidifier Features
If you find it hard to breathe and sleep in your room, it is good to get this Crane Humidifier as it has been said to alleviate conditions of a dry cough, colds, flu, and congested nose.
It is a good option if you do not want to take over the counter medicines for these sicknesses.
Aside from its medical benefits, its features and design are really thought out to fit effectively in your house. It is really compact and small, so basically you can put it anywhere in your room.
It can cover up to 500 square feet. Also, it comes in a sleek design with a wide array of stylish colors so it can add taste to any room.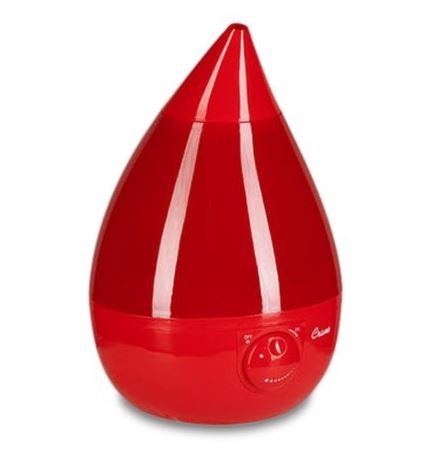 Ease Of Use
The Crane Cool Mist Drop Shape humidifier is straightforward to use. It features a variable control so you can efficiently change its settings.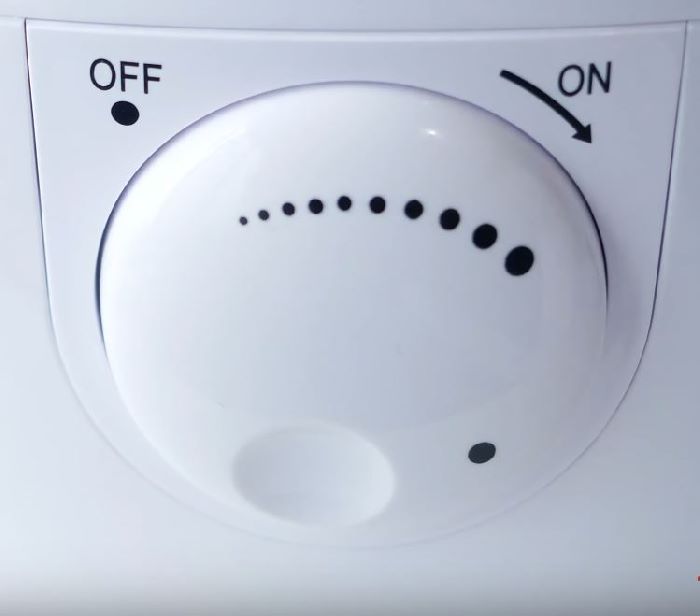 Adjustable Nozzle
Its 360-degree adjustable nozzle, on the other hand, gives you the total freedom of where you want the mists to go.
Quiet
The Crane ultrasonic cool mist drop shape humidifier runs in very quiet operation, which makes it very viable to put in your bedroom as it won't interfere with your sleep.
Automatic Shut-Off
Also, it can automatically turn itself off once the water tank is empty to ensure your safety. The water tank can hold up to 2.3 gallons, enough for 24 hours of moisturizing when used in medium settings.
Specifications
Water tank capacity – 1 gallon
Maximum water consumption – 2 gallons / 24
Automatic shutdown when the tank is empty
Noise level – 35 dB
Dimensions – hight 13in / circumference 27in
Available Colors
The Crane drop-shaped humidifier is available in these colors:
Aqua
Blue White
Clear and White
Grey
Orange
Pink
Pink and White
White
My Crane Drop Humidifier Review
When my little son had a cold, one of my friends recommended getting the Crane Drop ultrasonic cool mist humidifier. I did some searching and after reading a handful of Crane humidifier reviews found that this model is a popular model among Amazon buyers.
I decided to get it. I was attracted by the positive reviews and also by the possibility to use this appliance for aromatherapy. Also, a lack of filter made this humidifier interesting.
The delivery was fast and uncomplicated. At first, I was quite surprised about the size as I expected it to be a tad smaller. But one-gallon capacity is what it is.
The device looks very clean and makes a stable impression. To fill the tank with water you simply remove the cap. Then put the cap back, set the humidifier back together and off you go. Nothing leaks or drips.
The humidifier is really very quiet. We put it at the foot, and there you do not hear him at all. Even at the lowest setting, you will achieve good air humidity.
The only drawback is that this model does not have a night light. I am pretty sure I read a review about a humidifier that had a built-in nightlight. I guess it was another model.
I will test the aromatherapy function in the living room because I am not sure if my son will not have any negative reaction.
Is Crane Drop Shape Air Moistener Worth Your Money?
Many users attest that the product is definitely value for your money. Almost all users like how small and compact it is that getting it in place is easy. They also noted how easy you can refill the water tank. The quiet operation also gets two thumbs up from the users.
However, since this vaporizer does not have a filter (and can work without one), it is more prone to water mineral build-up. So, either you fill this humidifier with water that has fewer minerals or buy a filter for this separately.
All in all, this is one of the best cool mist humidifier models. If you are looking for one, you may want to put the Crane Drop Shape Humidifier into consideration.
Related Articles