Crane Drop Shape Ultrasonic Cool Mist Humidifier Review (Upd Nov 2022)
With the Crane Drop Shape ultrasonic cool mist humidifier, you won't ever have to endure the drying effects of the continuous use of heaters.
This vaporizer releases cool mists that add moisture to dry air, providing you great relief from the symptoms of a dry cough, cold, congested nose, and flu.
So if you feel that your room could use some additional moisture, you may want to check out this product.
The Crane Drop Shaped humidifier offers many features that are just right and very suitable for home use.
What is Crane Drop Shape Ultrasonic Cool Mist Humidifier
Cool mist humidifiers dispense cooling mist into the air and help make the environment more comfortable. It makes your room much more comfortable to live in. Another benefit of ultrasonic cool mist humidifiers is they also increase the humidity levels of the air.
Those who live in a dry and hot climate will love this. Crane's great ultrasonic cool mist humidifier helps you make your environment cooler. It uses ultrasonic technology, which makes it not only super-efficient but also very quiet.
It has adjustable settings, which you can tweak exactly how you like. And it also works great for large rooms. Let's check out the cool features.
Crane Drop Shape Cool Mist Humidifier Features
If you find it hard to breathe and sleep in your room, it is good to get this Crane Humidifier. It has been proven to alleviate a dry cough, colds, flu, and congested nose.
It is a good option if you do not want to take over-the-counter medicines for these sicknesses.
Aside from its medical benefits, its features and design are really thought to fit effectively in your house. It is compact and small, so you can put it anywhere in your room.
It can cover up to 500 square feet. Also, it comes in a sleek design with a wide array of stylish colors to add taste to any room.
Mist Type
From the name, you can tell its mist type is cool. Cool mist humidifiers like this one use innovative ultrasonic technology. It vibrates and creates a fine cool mist released into the air cooling the environment.
Since it doesn't use any heat or traditional cooling mechanism, it's safe for pets and kids. So, whether you have a family or live alone, you can use this one. Did we mention it also uses less electricity? Because it does.
Controls
The Crane Cool Mist Drop Shape humidifier is straightforward to use. It features a variable control so you can efficiently change its settings.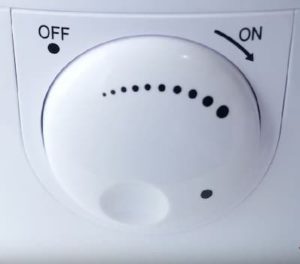 The guys at Crane did a fantastic job with the interface and control. It's easy to use and intuitive. It features a rotary control knob that seamlessly controls the humidity levels.
This way, you can tweak it to work perfectly for your environment. That's what we call versatility. It's simple and effective.
Filter
It is one of those instances where a 'lack of a feature' is a good thing. It is an ultrasonic humidifier. Now, what does that mean for filters? It doesn't have one.
It's as simple as that. The advanced technology doesn't need a filter since it uses high-frequency vibrations. No filter, no time waster cleaning it, and no hassle.
Besides, working with pesky filters can be a chore. And who likes doing chores? If you live busy lives, you'll love the easy maintenance of this humidifier.
There's an optional demineralization filter, though. It prevents hard water build-up, which can be tough to clean. And It isn't the most aesthetic thing ever.
If you want more value out of it, including the optional demonization filter can be a great addition. But it doesn't come included out of the box.
Humidity Output
You even have control over the humidity output. Set it to whatever level you're comfortable in. This feature will help make your life much more comfortable if you live in a hot and dry climate. Use the knob to adjust the levels.
By turning the knob, you can control the humidity output easily. If the mist goes straight up, it's in the perfect setting. That's what it should do. But if the mist goes down, dial down the humidity output.
The Crane Ultrasonic cool mist humidifier will alert you of water levels. And the power indicator light will glow bright red to catch your attention. Acting as a safety feature built into the humidifier.
Room Size
Thanks to its size and power, you can use it in large rooms. It's designed for use in rooms up to 500 sq. ft. It can run continuously for up to 24 hours at a time and give an effective cooling performance.
You'll also love how well it distributes the cool mist making the overall space much more comfortable.
Max Humidification Time
With a full tank, it'll run for 24 hours. That's pretty impressive, given how compact and sleek the design is. So, you can fill the tank up and forget about it until the next day. It works its magic in the background and cools your air.
This level of hands-free experience is quite hard to come by. It's another reason we loved this one from Crane.
Nozzle
The nozzle is adjustable 360°. That means you can target whichever corner of your room you want. Want to chill on the bed, but your humidifier is on the other side of the room?
No worries. Just rotate the nozzle towards you, and voila! It's directly cooling the air and blowing mist toward you, making the air surrounding you much cooler. Adjustability is one of its best features. It makes this humidifier very versatile and a joy to use.
Water Tank Capacity
This crane ultrasonic cool mist humidifier has a 1-gallon tank. To be more specific, it's 3.78 liters. The large gallon means you don't have to worry about filling it up regularly. Fill up the tank once, and it's good to go for 24 hours. How convenient is that?
Filling the tank up is also pretty seamless. Just unscrew the cap and pour water in. There are some things you need to keep in mind, though. You should never put hot water or fill it up to the rims. That's a big no-no. Apart from these cautions, you'll love how easy it is to fill up this thing.
Droplet Size
The droplet size is so fine it makes for a very relaxing environment. It shoots cool mist out in the air, and we loved its cooling effect.
Automatic Shut-Off
This humidifier also has protection features built right in. When the tank gets empty, the humidifier will automatically turn off. The power light will glow red to signal to you that the tank needs to be refilled.
Thanks to the lights, you don't need to keep an eye on it or check water levels constantly. The light tells you when you need to fill the tank.
Noise Levels
Operating noise is also pretty quiet for the most part. It outputs 37 decibels from 3 ft away. You can keep it on during the night and comfortably sleep without getting disturbed by the sound.
The Crane ultrasonic cool mist drop shape humidifier runs quietly, making it very viable to put in your bedroom as it won't interfere with your sleep.
Specifications
Water tank capacity – 1 gallon
Maximum water consumption – 2 gallons / 24
Automatic shutdown when the tank is empty
Noise level – 35 dB
Dimensions – height 13in / circumference 27in
Available Colors
Those who love bright colors have plenty of options to choose from. This humidifier comes in 8 different colors. Yep, you heard that right. A total of 8 different colors mean you can pick one that goes exactly with your décor.
Whether you want something a little low-key, like a blue or white one, or a loud and bold one in pink or orange, you have the option.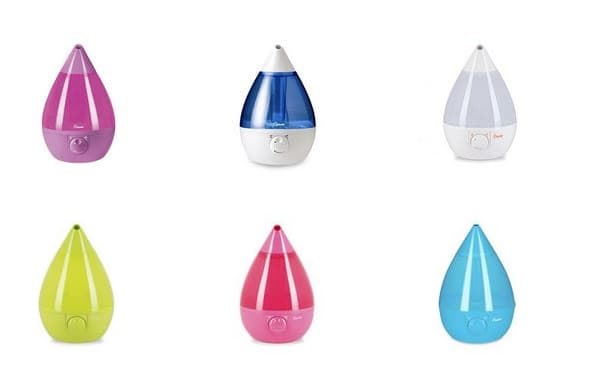 The Crane drop-shaped humidifier is available in these colors:
Aqua
Blue White
Clear and White
Grey
Orange
Pink
Pink and White
White
My Crane Drop Humidifier Review
When my little son had a cold, one of my friends recommended getting the Crane Drop ultrasonic cool mist humidifier. After reading a handful of Crane humidifier reviews, I did some searching. I found that this model is a popular model among Amazon buyers.
I decided to get it. I was attracted by the positive reviews and also by the possibility of using this appliance for aromatherapy. Also, a lack of a filter makes this humidifier cheaper to run.
The delivery was fast and uncomplicated. At first, I was surprised about the size as I expected it to be a tad smaller. But one-gallon capacity is what it is.
The device looks very clean and makes a stable impression. To fill the tank with water, you simply remove the cap. Then put the cap back, set the humidifier back together, and off you go. Nothing leaks or drips.
The humidifier is really very quiet. We put it at the foot, and you do not hear him there. Even at the lowest setting, you will achieve good air humidity.
The only drawback is that this model does not have a night light. I am sure I read a review about a humidifier with a built-in nightlight. I guess it was another model.
I will test the aromatherapy function in the living room because I am unsure if my son will not have any adverse reaction.
Pros and Cons
The Crane ultrasonic cool mist humidifier has a ton of features. It'll work great for rooms about 500 sq. ft. and cools the air effectively. An adjustable nozzle with humidity output control makes it very versatile.
But it does have advantages as well as some disadvantages. However, you might think the disadvantage is acceptable.
Advantages
Larger water tank
Adjustable nozzle
Humidity output option
Cools air effectively
Works perfect for 500 sq. ft. rooms
Easy to use and clean
Tons of color choices
Disadvantages
It needs regular cleaning and maintenance
Doesn't work well for spaces greater than 500 sq. ft.
Is Crane Drop Shape Air Moistener Worth Your Money?
Many users attest that the product is definitely great value for your money. Almost all users like how small and compact it is that getting it in place is easy. They also noted how easily you could refill the water tank. The quiet operation also gets two thumbs up from the users.
However, since this vaporizer does not have a filter (and can work without one), it is more prone to water mineral buildup. So, either fill this humidifier with water with fewer minerals or buy a filter for this separately.
All in all, this is one of the best cool mist humidifier models. If you are looking for one, you may want to put the Crane Drop Shape Humidifier into consideration.
Related Articles